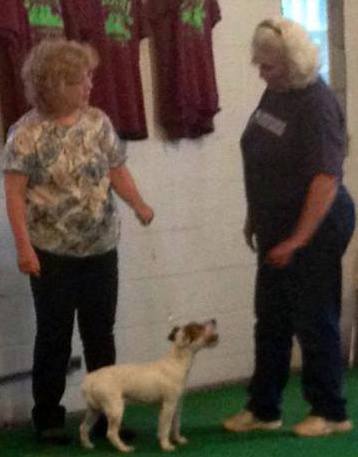 7:15 PM on Tuesday evenings
October 3rd on Tuesdays for 6 weeks
All classes will be held on Tuesdays. My husband Jim Raymond will personally be doing private lessons, only on a necessary basis. I personally believe in group training for the socializing factor. But we will be available 5:30-6:00 and 5:00-5:30 for personal attention. Advanced group will be 6:00-7:00. Beginners 7:15-8:15 and puppies when applicable. Always message me or call ahead with times and questions.
Please set your calendars for Fort Steuben Kennel Association Dog Show at Friendship Park on Labor Day weekend 2017 This is a true treat that a dog show comes back to our area, please support this event :)
CGC Training and Certification, Specialty Classes, ETC.
Grooming referrals (K-jo's Puppy Pals)
Local Kennel clubs: Fort Steuben Kennel Association -FSKA
St. Clairsville Ohio Kennel Club - SCOKC
LORRIE RAYMOND: Association of Professional Dog Trainers
Puppies when applicable
*Private-by appointment only
Thanks for visiting!
DESTINY DOG TRAINING AND WELLNESS CENTER OPENED IT'S DOORS MANY YEARS AGO. IT OFFERS CLASSES IN BASIC OBEDIENCE, NOVICE OBEDIENCE, RALLY OBEDIENCE, FUN AGILITY, Conformation upon request. DDTWC ALSO OFFERS PUBLIC SEMINARS THROUGHOUT THE YEAR.
DESTINY DOG TRAINING AND WELLNESS CENTER HAS MOVED IT'S LOCATION 3 TIMES AND IS CURRENTLY LOCATED IN THE FORT STEUBEN KENNEL ASSOCIATION Building in POTTERY ADDITION, STEUBENVILLE OHIO.
IT'S GOAL IS SIMPLE, TO MAKE DOG TRAINING FUN FOR BOTH THE OWNER AND THE DOG, ALONG WITH HELPING TO RAISE WELL BEHAVED CANINES.
SOME OF THE DOGS MAKE MONTHLY VISITS TO LOCAL NURSING HOMES, SCHOOLS, PARADES AND COMMUNITY COLLEGES
DOGS THAT ATTEND DESTINY DOG OBEDIENCE SCHOOL CAN ADVANCE TOWARD TITLES IN OBEDIENCE, RALLY, CANINE GOOD CITIZEN AND THERAPY DOGS.

CONTACT INFORMATION:
OWNER: LORRIE RAYMOND
PHONE:
740-264-7793
destinydogs@yahoo.com
WEBSITE:
www.destinydogs.biz

FACEBOOK:

https://www.facebook.com/
DestinyDogTrainingandWellnessCenter